India Couture Bridal Week Reveals New Bridal Trends
Miabella Espaillat
Fashion Editor
Into India Couture Week (ICW), more than a dozen eminent designers displayed their works, providing a glance at the bridalwear trends influencing one of the biggest wedding markets in the world, among many other things.
The 15th iteration of the annual event, which ended this past weekend in the nation's capital New Delhi, was the first to be held on a real runway since the outbreak of the pandemic. The chance was taken advantage of by all 13 participating designers, who incorporated both Western and conventional South Asian styles to honor the rich heritage of Indian crafts and handwoven textiles. As usual, bridal attire took center stage.
While European couture establishes the standards for the elite world of high fashion, it has a significant influence on consumer behavior in India. This is especially clear in the nation's wedding business, which before to the epidemic was second only to the United States in value at almost $50 billion annually, according to a 2017 research by consulting firm KPMG.
Crafts are the foundation of fashion, and they are crucial to the lengthy festivities known as "Big Fat Indian Weddings."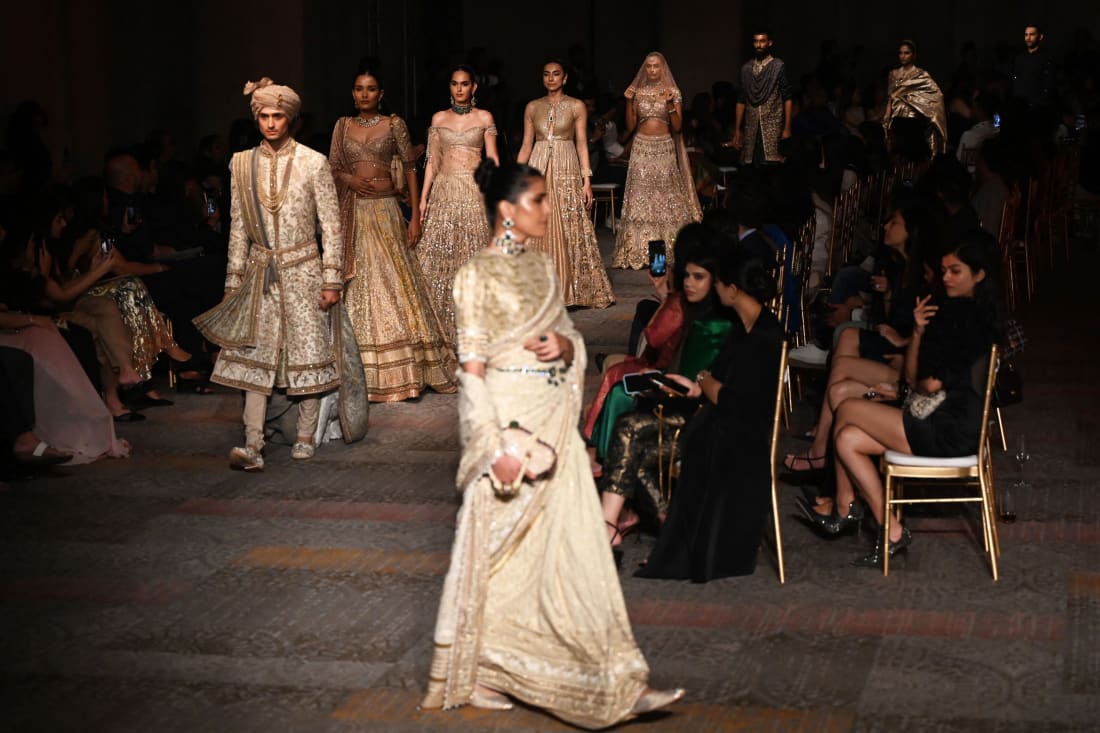 Hindu brides may typically wear red, although more and more people are choosing muted tones these days. Consider the actress from Bollywood Alia Bhatt, who just wed Ranbir Kapoor while donning an ivory-colored sari with embroidered details.
Throughout ICW 2022, a shift to softer colors was perceptible. Shades of beige, oyster, biscuit, and the palest of mauve made up over half of the designer Tarun Tahiliani's collection. Both Anju Modi and Anamika Khanna chose ivory-colored pieces, with the latter adding pearls to her creations and the former fusing coral pink and burgundy. Rahul Mishra, on the other hand, frequently used light-colored base fabrics while using vivid colors for surface ornamentation.
Numerous evening designs featured on the runway combined elements of Indian and Western fashion, such as Rahul Mishra's black and gold draped suit combinations and Varun Bahl's draped skirts with floral applique work. JJ Valaya, the founder of House of Valaya, wore a black and ivory chevron sari with a velvet jacket embroidered with flowers, while the lehengas by high-end designer Falguni Shane Peacock had a ballgown-like quality. With his three-dimensional skirts and redesigned dupattas, Amit Aggarwal, famed for his cutting-edge shapes, deconstructed the lehenga.
Until recently, the modest blouse was one of the outfit's most undervalued components. Today's India is known for its boldly low necklines and cropped, barely-there blouses.
The use of flossing by Tarun Tahiliani, scoop necklines paired with belts by JJ Valaya, spaghetti strapped itsy-bitsy blouses by Varun Bahl, and bra tops with a tribal influence by Anamika Khanna are just a few examples of how this has affected wedding wear.
Contact Miabella at espailmi@shu.edu