Seton Hall University Receives Two Large Donations in a Month
Miabella Espaillat
Stillman News Editor
In the last month of February, Seton Hall University has received two large donations. The first donation came from a Seton Hall Law alumni and Chair of the Board of Regents Kevin Marino and Rita Marino. The second donation came from Seton Hall's very own University president and wife, Joseph E. Nyre, Ph.D., and Mrs. Kelli Nyre. In the mere span of little over a week from each other, the University received $1,500,000 dollars in total. The first donation came on February 7th, 2022 when Seton Hall University's Chair of the Board of Regents, Kevin H. Marino announced that he and his wife, Rita Marino, will be giving $1 million towards an endowed professorship.
The endowed chair's occupant will be known as the Marino Tortorella & Boyle Professor of Legal, after Marino's law practice. More on Marino's Law Practice, the law practice is one of the most well-known litigation firms in the country. They are recognized each year for their outstanding performance in appellate, commercial, white-collar criminal defense, and bet-the-company litigation. Marino received his law degree with honors from Seton Hall University in 1984, where he also served as Editor-in-Chief of the Law Review. He has taught criminal procedure, professional responsibility, trial advocacy, and legal writing as an adjunct professor at the Law School. In addition, he has published in its Law Review, served on its Board of Visitors since its inception, and has served on the University's Board of Regents for the past six years, which he now chairs. Not to mention, Marino, Tortorella & Boyle, P.C., has a seven lawyer ligation boutique that's recognized by many in the New York metropolitan area to be a preeminent firm. The firm was originally founded by Kevin H. Marino in 1996, having years of experience in distinguished national law firms.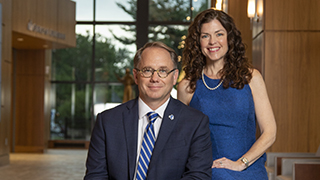 The second donation and generous amount came on February 14th, 2022 by Seton Hall University's president and his wife. The $500,000 donation contribution will support student scholarships as well as academic research and teaching initiatives. Most may ask how they were able to raise so much money for the University. The answer lies in their philanthropic journey and ongoing meetings with donors. President and Mrs. Nyre interact with Seton Hall donors around the country on a monthly basis, making them well-versed in the University's goals and the enormous influence that charitable gifts have on the University, its students, and faculty. Even though President and Mrs. Nyre can't control where the money goes too, they emphasized helping students and emphasizing their academic success through financial aid. Additionally, they wanted to help fund the faculty's research and instructions. Their strong desires for such allocation have demonstrated their charitableness, kindness, and honest intentions of giving back to the people of Seton Hall University. The $500,000 gift will be added to the University's ultimate endowment.
The importance behind such large donations and contributions to the Seton Hall University speaks volumes. These contributions remain a note that the University has created such a strong bond between its students and faculty to create a returning alumni donation. On top of that, the act of display by the President and Mrs. Nyre illustrates their care for the University's future. The University's future includes believing in its students and fellow faculty member to lead us into the best we can be.
Contact Miabella at espailmi@shu.edu