Credit to Matt Sanoian, @SanoianDesigns
It was a cloudy September evening last year and the WNBA Playoffs were in full swing. Game 1 of the semifinals, Los Angeles against Connecticut in a clash against two evenly-matched powerhouses. Almost all eyes were on this matchup, along with the game between the Mystics and Aces later on that night. However, at halftime of the first game, fans of four teams (the Liberty, the Fever, the Wings, and the Dream) waited patiently on some results that could change their franchise forever.
The @nyliberty have won the #WNBA Draft Lottery 2020 presented by @StateFarm.

Watch the full lottery drawing here! ⬇️ pic.twitter.com/pm9aMyY2yo

— WNBA (@WNBA) September 17, 2019
For some, those five minutes and 41 seconds felt like a lifetime. Sure, the No. 1 overall pick is always coveted in every draft, but this draft was different. In 2020, there was the chance to select one of the greatest talents the WNBA has ever seen: do-it-all point forward Sabrina Ionescu, one of the most accomplished players in NCAA history and a light at the end of the tunnel for one of these squads. The Liberty, who entered the night with the best odds at the No. 1 overall pick, stayed in that slot and months later, selected Ionescu in the league's first-ever virtual draft in the midst of the coronavirus pandemic. Not only has New York done that, but they've also made some other interesting moves this offseason as well. With that being said, let's detail the history of the Liberty, what Ionescu brings to the table as a can't-miss uber-prospect, and the other transactions the team made in the past few months to try and build around her. 
The Liberty: early success, the Hammon Years, the Cappie era, an Isiah resurgence, then downfall
New York wasn't always a city dearth of basketball success. In fact, in their first six seasons of existence, they won four conference titles. Although their first pick Rebecca Lobo dealt with repeated injuries, Teresa Weatherspoon emerged as a star and led the Liberty to the Finals in 1997. In 1999, New York drafted Crystal Robinson and went to the Finals again, where a miracle half-court buzzer beater from Weatherspoon tied the series and cemented her legend status. After trading for Tari Phillips and getting some help from Sue Wicks, the Liberty advanced to the championship two more times, in 2000 and 2002. Although they lost three straight times to the now-defunct Houston Comets and in 2002 to the Los Angeles Sparks, New York seemed destined for a ring at some point.
However, with such early success, there had to be a period of transition. Teresa Weatherspoon's career began to wind down and fan favorite Becky Hammon replaced her in the starting lineup; you can learn more about her early years with the Liberty and their struggles getting over the hump here. The Liberty even played some games in Radio City Music Hall, with Madison Square Garden being occupied by the Republican National Convention. Although Tari Phillips left NY for Houston in free agency, Ann Wauters became a major contributor before getting hurt and the franchise was in flux yet again. After a terrible 2006 season where the team only won 11 games, Hammon was shipped off to San Antonio and New York hasn't had a dominant point guard since.
Christian Petersen/Getty Images
The Liberty had some enthralling playoff battles with the Detroit Shock, then had their second-worst record in franchise history, going 13-21 in 2009. To combat this, they went out and signed Cappie Pondexter from the Phoenix Mercury as a free agent in 2010. In her first year with the team, she averaged more than 21 points per game and shredded the competition. Behind her and Most Improved Player Leilani Mitchell, the Liberty returned to the Eastern Conference Finals yet again. New York remained competitive over the next two years, but Pondexter's dwindling production forced an ultimatum. She was traded to Chicago for Epiphanny Prince, and the team's worsening record resulted in a front office overhaul.
Jessica Hill/AP
In May of 2015, the Liberty hired Isiah Thomas as team president, overseeing all business and basketball operations. With Thomas and former Pistons running mate Bill Laimbeer, who was then the Liberty head coach, New York had the best record in the East and made the conference finals for the first time in five years. Becky Hammon, who now is a successful assistant coach for the San Antonio Spurs, returned in August 2015 and was inducted in the Liberty Ring of Honor. The next two seasons were fairly successful, except New York finished with the best record in the East and didn't advance past the second round. Then suddenly, James Dolan, who bought the team in 1996, announced he wanted to sell in late 2017. The Liberty were relocated to the home of the Westchester Knicks, where they remained for two seasons.
Seth Wenig/AP
In the next two years, the franchise reached new lows as they went 7-27 and 10-24 under new coach Katie Smith, after Bill Laimbeer left for the Las Vegas Aces. In January 2019, the Liberty were sold to Joseph Tsai, owner of the NBA's Brooklyn Nets and the Barclays Center. Weeks later, he released Isiah Thomas of his duties. Finally, for the first time in years, the Liberty seem to have a direction trending upwards. Now, with the franchise moving to Barclays permanently, New York has a youthful squad, a new head coach in Walt Hopkins, and basketball's next big star. But what about Ionescu makes her so great?
Nathaniel S. Butler/Getty Images
Sabrina Ionescu: How She'll Be Tasked With a Big Apple Turnaround
The Liberty haven't had a dominant player running the point since three-time Hammon in the early 2000s. Sure, the team has been moderately successful since then, but Ionescu is a different breed. She is more than capable of leading any team out of the darkness and back to the top tier of the WNBA. Sabrina, much like Maya Moore and Breanna Stewart, is in that level of prospects that everyone knows will be stars immediately. Make no mistake, the 2020 draft lottery was definitely the one to win. It all started in high school, where Ionescu was special from Day 1.
#BeforeTheyWereStars: A look at @NCAA Player of the Year and @OregonWBB senior @sabrina_i20's high school career. She left @MiramonteHS with a win-loss record of 119–9, and a school record 2,606 points scored!

📺Full Games: https://t.co/GGq8eNLcG7 pic.twitter.com/GwVtw1moF4

— NFHS Network (@NFHSNetwork) April 5, 2020
After setting a bunch of records and culminating her career with being named a McDonald's All-American, she committed to Oregon as the top point guard in the nation. What followed in the next four years was some of the greatest basketball ability the NCAA has ever seen; so many accolades won and impressive achievements tallied that it'd take all day to list them off. 
From becoming the first player, men's or women's in NCAA basketball history to record 2,000 points, 1,000 rebounds and 1,000 assists:
2K points. 1K assists. 1K rebounds.

A history-making moment for Sabrina Ionescu! pic.twitter.com/RKcpt5Dhpy

— ESPN (@espn) February 25, 2020
To becoming the NCAA's all-time leader in career triple-doubles, finishing with 26 (!):
After recording her 13th triple-double today, Oregon's Sabrina Ionescu sets the record for most triple-doubles in NCAA history, men's or women's 🏆

(via @Pac12Network)pic.twitter.com/SixBaOtP7Q

— Bleacher Report CBB (@br_CBB) December 20, 2018
To leading an upset of Team USA in Eugene in an absolute barn burner:
SABRINA IONESCU FROM THE LOGO 😱

Oregon women's basketball takes down Team USA 93-86.

(via @OregonWBB) pic.twitter.com/UBQcOVUzlX

— espnW (@espnW) November 10, 2019
She has done it all, and more. She would have easily went No. 1 overall in 2019, but returned to school for one last shot at a ring. Unfortunately, the coronavirus pandemic prevented us from watching one of college basketball's greatest ever players potentially lead her team to a championship. Regardless, she left an indelible mark on Oregon, even being named to a hypothetical Mount Rushmore of the university with Marcus Mariota, Phil Knight and Steve Prefontaine. Now, she leaves school behind and looks to revive the Liberty from the cellar of the Eastern Conference. What separates her from the rest? 
First, her preternatural passing ability. Seen by many as her best attribute, Ionescu always looks for the best shot possible. She constantly relies on her instincts to make the right reads and deliver passes with pinpoint accuracy. The game slows down at a snail's pace around her, allowing her to decipher passing lanes and read defenses before they even get set. She used this elite skill to increase her assist average every season in college, consistently putting her teammates in position to succeed.
Sabrina Ionescu | Assists (On time and on target)
– Good guards look for passing lanes. Great guards create passing lanes. pic.twitter.com/VKALBTFDZn

— New Age Elite Sports (@NewAgeElite) March 24, 2020
Secondly, as if being a superb passer wasn't enough, she is a sniper from beyond the arc with unlimited range and a great free throw shooter as well. After shooting at least 42% from three-point land in each of her first three years at Oregon, she just missed out on the 50-40-90 club in her senior season by a few percentage points. You saw that insane shot from the logo in the clutch against Team USA where she had 30 points and seven assists, but that was no fluke.
Sabrina Ionescu became Oregon's WBB all-time leading scorer on a career-high night (37 points)

The league not ready. 📈

(via @Pac12Network)pic.twitter.com/6We0u0sfnY

— Bleacher Report CBB (@br_CBB) January 17, 2020
Lastly, and what really makes her so special, is her passion and natural ability to lead her teams through anything. That intangible talent, that never-say-die attitude she possesses; simply put, in the clutch, there is no one in the country better than Ionescu. She scored a McDonald's All American Game-record 25 points in a comeback victory against the best high school players in the country. She had eight of Oregon's 11 overtime points in a win over top-10 UCLA in February of 2018. The list of legendary performances goes on and on, and she plays her best when there is added pressure. Scouts have repeatedly praised her command and maturity, and Sabrina's competitive personality is what separates her from the rest. It will be a huge asset in her reaching her potential, and leading the Liberty into the next decade.
*Looks at dictionary for definition of clutch*@sabrina_i20 with the three to send @OregonWBB to overtime in the Civil War. pic.twitter.com/9g6uDu3ELu

— Kevin Wade (@KwadeSays) January 20, 2018
So after taking a closer look at the Liberty's biggest acquisition of the off-season, let's move onto their other transactions: one big trade that created a seismic effect across the league, and other moves that hopefully put Ionescu in the best position possible to flourish.
How the Liberty Traded a Superstar, and How Their Draft Picks Look to Contribute
On April 15, the Liberty shipped franchise superstar Tina Charles to the Washington Mystics, hitting the reset button and passing up the chance to pair her with Ionescu. After using their core player designation on her for a fourth time, it was clear that Charles wasn't willing to resign with the team long-term. Due to this, New York decided to go all in on the youth movement and trade their cornerstone. It was an unfortunate ending to a fruitful relationship, but credit to the Liberty for cashing in on Charles' trade value and getting back some valuable picks in return.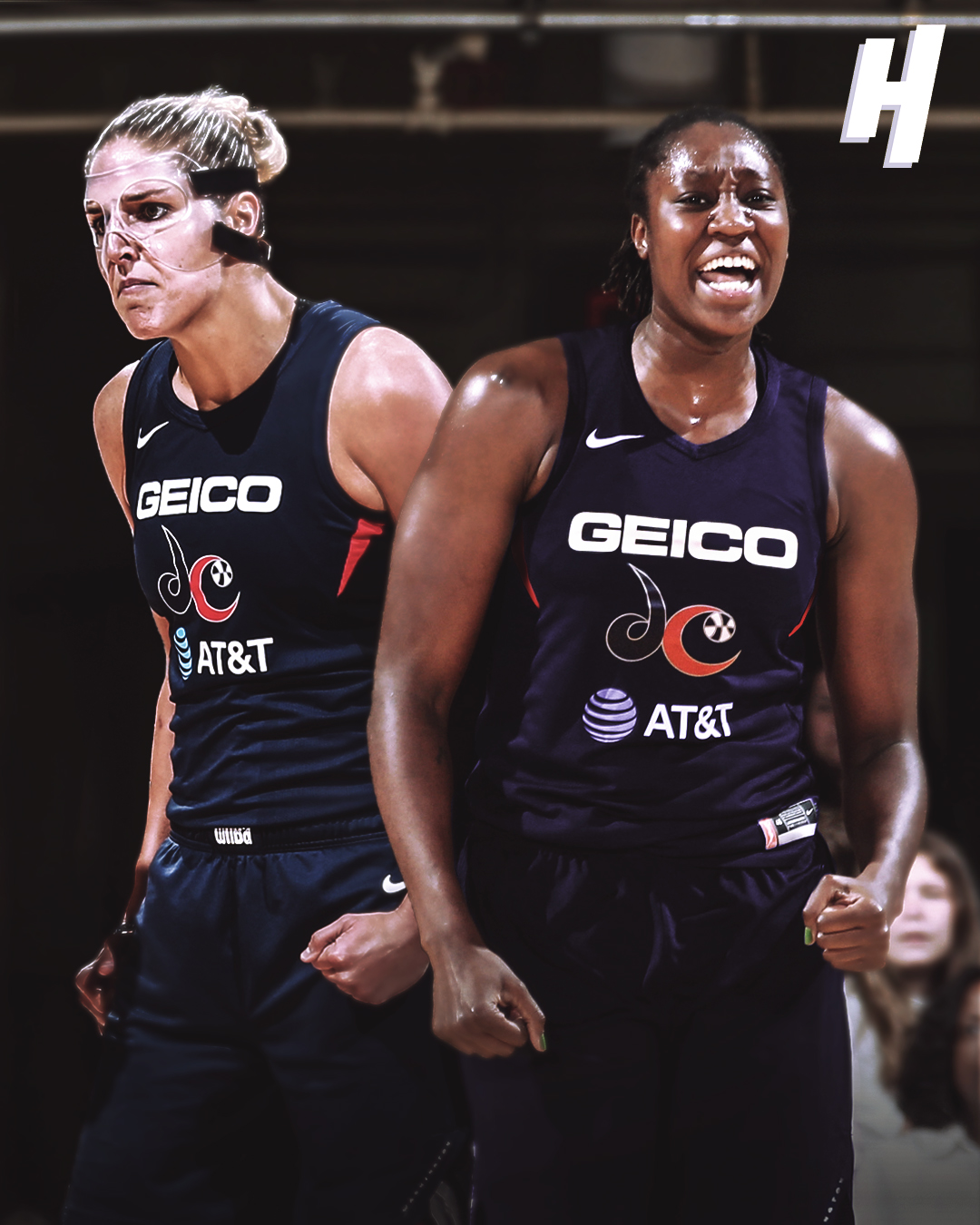 Credit to Matt Sanoian, @SanoianDesigns
After that trade, the Liberty had the No. 1 overall selection (Ionescu), and a slew of other picks along with a player, Shatori Walker-Kimbrough from Washington, as well. Once the draft came around, everyone knew who the Liberty were picking first. However, it was the other moves of the night that convinced a lot of people this is a team ready to compete. New York's glaring need was offense, and they easily addressed it with one of the best drafts league-wide.
At No. 9, the Liberty selected Megan Walker out of UCONN. Players usually don't declare for the draft after three years like she did, unless they are really good; Walker definitely belongs in that category as one of the best shooters in the draft (45 3P% last season). As a phenomenal long-range shooter paired with great rebounding ability on the wing, she should fit in smoothly in lineups with Sabrina.
Megan Walker has been going off this season for UConn! @_megwalker3 pic.twitter.com/XrP5sOrIe9

— Courtside Films (@CourtsideFilms) December 9, 2019
With their next two picks bookending the first and second round, New York selected a pair of Cardinals in Jazmine Jones and Kylee Shook from Louisville. Not only did both of them shoot over 35% from beyond the arc, providing spacing for the offense, but they each offer their own strengths. Jones offers defensive versatility and elite mid-range shooting, making her a dangerous scorer from each level. Shook, on the other hand, just won ACC Defensive Player of the Year as she averaged 2.7 blocks per game her senior year. While they weren't consensus first-round prospects, they both supply significant positives on the court.
Future Liberty guard Jazmine Jones shoots over future Liberty guard Sabrina Ionescu after a pick from future Liberty big Kylee Shook. pic.twitter.com/sZvv33eTwh

— Justin Carter (@juscarts) April 18, 2020
Kylee Shook's ability to move from the paint to the perimeter & then back to the paint & then to chase down the driver to get the block is good. pic.twitter.com/9FsSG0ru9e

— Justin Carter (@juscarts) April 19, 2020
The first round went as well as it could have went for the Liberty. but then the front office made yet another great move, trading away Shatori Walker-Kimbrough to Phoenix for #10 overall pick Jocelyn Willoughby. Simply put, while Walker-Kimbrough has been a solid player in the league, playing time would be hard to come by with Ionescu, last year's top-3 selection Asia Durr, All-Star Kia Nurse and Jazmine Jones in the backcourt as well. Now, the Liberty got a chance to add another fantastic shooter and rebounder on the wing in Willoughby in a very shrewd maneuver.
Jocelyn Willoughby was a 𝐰𝐚𝐥𝐤𝐢𝐧𝐠 𝐛𝐮𝐜𝐤𝐞𝐭 this season, leading the ACC in scoring! 🏀🔥

Full Highlights: https://t.co/ueRIqq5Erg#GoHoos #ACCWBB pic.twitter.com/2immSNDNPK

— ACC Digital Network (@theACCDN) April 8, 2020
At No. 15, the Liberty picked up Leaonna Odom from Duke, getting elite interior shooting and wing defense at tremendous value. Lastly, with their final move of the night they traded Erica Ogwumike, their selection at #26, for Stephanie Talbot from Minnesota; these transactions gave the team even more depth and size in the frontcourt, and Talbot can provide shooting from the center position as well.
Leaonna Odom is our Player of the Week!

She notched her third double-double of the season with 23 points and 10 rebounds this week against Syracuse.

🎥▶️↓ pic.twitter.com/aGOPebe7ax

— ACC Women's Basketball (@accwbb) January 27, 2020
So all in all, the Liberty walked away with the best overall prospect in the draft, elite shooting and rebounding on the wing, a secondary creator, and defense in the frontcourt. That is how you surround your top player with talent, and after having the third-worst offense in the league, New York looks poised to turn it around on that end.
What Comes Next? Now, It's Time to Show the World
The 2020 season marks a turning point in the history of the Liberty. Ten years ago, the team signed Pondexter and had their best record since the early 2000s. At the turn of the millennium, the Liberty made it all the way to the WNBA Finals and failed to defeat the Comets for a third time. Now, New York has landed one of the most decorated basketball players ever, and each side has a lot to prove. For Joseph Tsai, was purchasing the Liberty and hiring Walt Hopkins the right choice? Can he turn this franchise around? For Ionescu, after so much success in college, she walked away without a shot at a championship due to circumstances out of her control. Is she ready to be the unquestioned leader on this team? 
To that, the answer is without question. Out of every prospect in the country, there is no player better suited for this role than her. She has always wanted this position, on the big stage, and there is no bigger market than the Big Apple. The spotlight and the magnifying glass on her will be immense, but if there is anyone that can handle the attention, it's her. With the front office providing the right pieces for her development, let's see what she can do in the pros, because the fate of an entire franchise depends on it.