Born on June 27, 1880 – Died June 1, 1968
Tuscumbia, Alabama
All places she has lived: Westport, Connecticut; Wrentham, Massachusetts; Forest Hills, New York; and Tuscumbia, Alabama
She was a American Author, Political Activist, and Lecturer.
In her life time she published 12 books. Along with essays, and speeches.
At a young age, 19 months old she got a disease that there was not known at all. They called it a "an acute congestion of the stomach and the brain" basically it could be described as the scarlet fever or meningitis. This disease left her blind and deaf. She called it in the biography "at sea in a dense fog"
Michael Anagnos is the school director that asked Anne Sullivan who at the time was 20 years old to be Helen Keller's instructor. Anne Sullivan herself was visually impaired.
Anne Sullivan who ended being a friend, was her teacher. The first time meeting her she taught Helen how to spell with her hand, can be referred to as a hand alphabet. Anne Sullivan was made famous when Helen Keller's autobiography "The Story of my life" and "The Miracle Worker".
March 5, 1887 is when Sullivan went to Keller's house 'soul's birthday', according to my research.
As mentioned earlier, Anne Sullivan immediately as soon as she got to Helen's she taught her the hand alphabet, so that she could be able to communicate by spelling words out. The first word that she learned is 'water'. Within that first night of meeting her, Helen had been able to learn at least 30 words.
A true friendship between Helen and Anne last 49 years. Something totally amazing especially when Anne was hired as her teacher, ended up being her closest friend.
Fun Facts about Helen Keller: Due to her being deaf and blind many viewed her as isolated however, that was the opposite.
Some people would not think that people who are deaf would be able to listen to music however, she is able to enjoy music. The way that she was able to do that is through feeling the beat.
Along with this she had a strong connection with animals through touch.
She also had a voice, normally deaf people cannot speak because they cannot learn sounds however, she was able to learn it and speak it. -Anne Sullivan took her to Sarah Fuller. Sarah Fuller was a teacher at the Horace Mann School for the Deaf and Hard of Hearing, in Boston, Massachusetts. Fuller only gave Helen Keller about 11 lessons, then Anne Sullivan took over with the lessons. Helen Keller did not really like her speaking voice due to the fact that it was not entirely clear or easy to understand.
The way she was able to speak and give speeches and lectures later in life was learning how to read people's lips with her hands, was one of the techniques.
Although she hated her voice, two huge people within the American culture, Alexander Graham Bell and Mark Twain, noticed her amazing, abilities and her teacher's unique skills. Mark Twain said, "The two most interesting characters of the 19th century are Napoleon and Helen Keller" (Afb.org)
Helen always wanted to attend college since she was little, just like any other little kid.
1894- Helen Keller and Anne Sullivan moved to NY to attend Wright-Humason School for the Deaf
1896- they both returned to Massachusetts, The Cambridge School for Young Ladies.
1900- Helen Keller attended Radcliffe College of Harvard University. She was the first ever Blind and Deaf person to ever receive a Bachelors of Arts Degree at Harvard University with a 4.0 in 1904.
1924- She joined the American Foundation for the Blind (AFB is what they refer to it). She worked for that organization for over 40 years.  Within this foundation she was able to have a global platform to speak up for the needs of people who also had vision loss. She always took every opportunity there was that was possible for her to take. She traveled across the United States, while she did that state commissions for the blind were created thanks to her. Also rehabilitation centers were also built and thankfully the education was made more accessible for those who had vision loss. She took her opportunities to better lives of people like her. She seemed to be a hero to many people because of this.
1936- Anne Sullivan ended up passing away, and that is when Polly Thomson took over Anne's position for Helen Keller.
While she was at Radcliffe it is when she started her writing career. In 1903 is when her Autobiography, The Story of My Life. Which had been seen already the previous year in little snippets in the Ladies' Home Journal Magazine. Her autobiography is still published in print to this day, it has been translated in over 50 languages.
Other words that Helen has published was Optimism, which is an essay. Then she also published, The World I Live In, The Song of the Stone Wall, Out of the Dark, My Later Life, Midstream, Peace at Eventide, Helen Keller in Scotland, Helen Keller's Journal, My Religion, Let us Have Faith, Teacher, Anne Sullivan Macy, and The Open Door. 
Those are not the only works she has published but it was many of them, she also always constantly contributed to magazines and newspapers. To this day, in Helen Keller's archives you can find over 475 speeches and essays that she wrote. Many topics that she wrote about were faith, blindness prevention, even birth control. She also discussed the rise of fascism within Europe and atomic energy.
The very cool fact about Helen being a writer is that she also physically did the work, she used a braille typewriter to create her manuscripts and then from there copied them to a regular typewriter.
The other thing Helen Keller wrote, we have looked at in our classroom which was, I Go Adventuring. I was unable to attach this writing due to the fact that were no online link to it, that is why earlier I attached a similar writing piece, The World I Live In because it has to deal with her life, and how she experiences the world just like within our reading piece with her in New York.
Within my journal analysis for Helen Keller I discussed, "The way bridges are viewed, told to us by a blind person, ironic to me. Also on page 506 when she describes, 'flood of smells which gives eyes to the mind' that one truly can find their way around with just the sense of smell, and her outlook on the city was also interesting to me too. I also found it interesting how on 507 she discusses these young girls who are laughing when she can only hear through vibrations due to the fact that she's also deaf. Which honestly I forgot she was deaf because she discusses so much of sound within this piece even. I loved the way how she made it seem that New York is yes so insanely crazy but for a blind and deaf person it makes them feel not alone. Which I totally agree with because New York is not a place to go if you want to be alone ever. The view point definitely set differently here but in the refreshing way of being able to see New York through the 'eyes' of someone who cannot see or hear that it's left on smell and such, but yet over time you see that she's come up with such a great outlook of New York." (Kadian)
Within my analysis is where I really noticed that it was so easy to forget that Helen was blind and deaf because of the way she describes New York City in depth and in a beautiful way no less. She was able to beat so many odds because to many people if they are blind or deaf they would not be able to do half of what she has accomplished.
Helen Keller's connection to New York City was her piece of I Go Adventuring that we looked at in class. Also she went to the Wright-Humason School for the Deaf that was in New York City. The way she described the City in her piece that we read was like no other, she was able to capture how amazing the city is, how it is crowded but yet amazing. How the city is so loud, how people are laughing, how much she loves the city so much.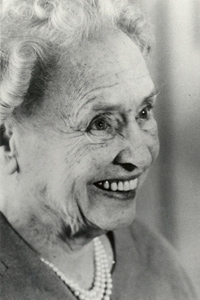 Helen was famous from the age of eight until she died in 1968. She had received many honorary doctoral degrees from Temple and Harvard Universities in the United States. Also from Glasgow and Berlin Universities in Europe, Delhi University in India and Witwatersrand University in South Africa. Helen also earned a honorary Academy Award in 1955, which was used as inspiration for her documentary about her life, Helen Keller in Her Story.
Her final apperance in public was in 1961 at the Lions Clubs International Foundation Meeting that was held in Washington, D.C.
Her final place that she lived was in the quiet place Arcan Ridge in her home in Westport, Connecticut.
She died shortly after her 88th Birthday. Her ashes are in St. Joseph's Chapel of Washington Cathedral. At her memorial service, Senator Lister of Alabama gave a very nice eulogy. He said, "She will live on, one of the few, the immortal names not born to die. Her spirit will endure as long as man can read and stories can be told of the woman who showed the world there are no boundaries to courage and faith" (Afb.org)
Where She Lived:
Where She Walked:
Work Cited:
"Biography." Biography | American Foundation for the Blind, American Foundation for the Blind, 2000, www.afb.org/about-afb/history/helen-keller/biography-and-chronology/biography#firstwords.
"Helen Keller Biography." Biography.com, A&E Networks Television, 2 Apr. 2014, www.biography.com/activist/helen-keller.
"Helen Keller." Wikipedia, Wikimedia Foundation, 5 May 2019, en.wikipedia.org/wiki/Helen_Keller.
Kadian, Julianna. Journal Entry Helen Keller and Zora Naele Hurtson. 2019.
Keller, Helen. "I Go Adventuring." Writing New York a Literary Anthology, by Phillip Lopate, Penguin Putman, 1998, pp. 505–508.
Keller, Helen. The World I Live In, William Brendon and Son, LTD Plymouth, 1904, www.drugfreereading.com/interest_novels/Helen%20Keller%20Autobiography.pdf.