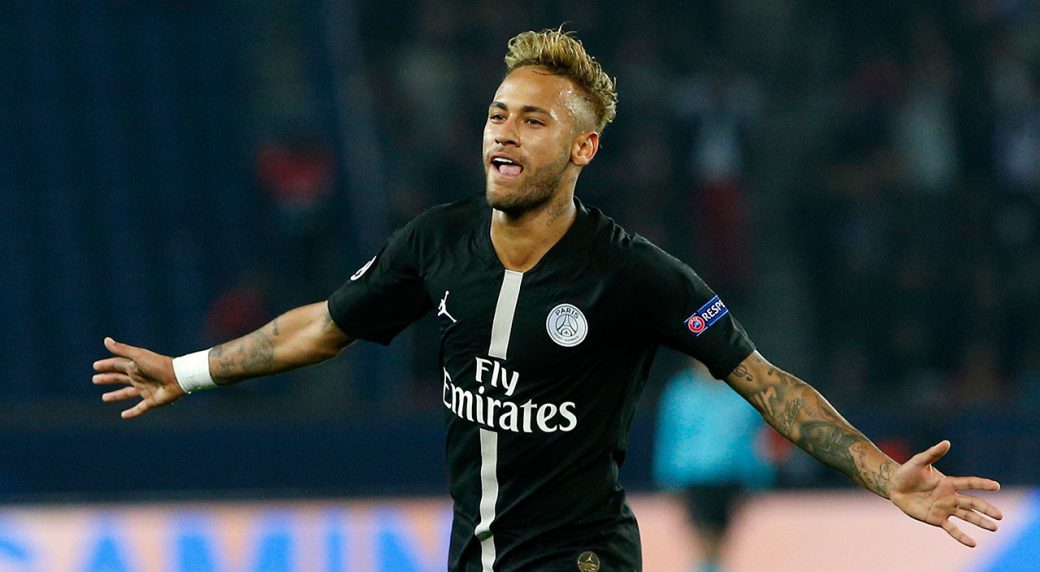 Paris, Milan, London, New York, Los Angeles.
Oh- and Buenos Aires, Rome, Prague, Tokyo, Madrid, Munich, Barcelona, and Amsterdam.
These cities are cosmopolitan. Trendy. Known for their art, their style, their culture. The capitals and rising powers in the fashion world. Cities home to fashion juggernauts like Givenchy, Dior, Alexander McQueen, Dolce and Gabbana, and Fendi. Cathedrals of the art, where up and coming studios like KidSuper and Fruto attend their weekly mass.
Tyler Adams and Timothy Weah, two of the USA's brightest young stars, pose in the Nike FC x Off_White soccer jersey.
While their influence on fashion cannot be disputed, their influence on sport is arguably even larger. For every iconic fashion house in each city, there is a team that is recognized just as well- if not better- than their designer counterparts. When someone thinks of a brand symbolic of Barcelona, do they think of Desigual, or do they think of the Blaugrana?
Exactly.
In recent years, sports and fashion have become almost sister disciplines. Russell Westbrook is known just as well to clash patterns as he is to score a triple double. His Airness- that is, Michael Jordan- is the face of a brand with as much credit on the streets as on the court. This interdisciplinary art, the blending of sportswear and high fashion, has taken the world by storm, and today, a trendy tracksuit looks just as good as a timeless tuxedo.
****
Soccer players have always been known for their hairstyles.
"Hair is cool because you can do anything to it," Ahmed Alsanawi said over the phone in between clients. Alsanawi's South London barbershop, A Star Barbers, is frequented by star players such as Paul Pogba, Eden Hazard, and Marko Arnautovic.
"Paul will come in with new ideas for his hair almost every week," Alsanawi laughs. "But he's got an image to maintain and create and it's a lot of fun to be part of that process."
Alsanawi says his shop, though frequented by the pros, caters to everyone- not to mention fans who want the same look as their icons.
"We've been getting a lot more attention, yeah," Alsanawi said. "We've got 263,000 Instagram followers, but we've also got pensioners rates. We want to be a part of the local community as much as promote our online presence… even if you might not be Paul Pogba, we still give you the best haircut you've ever gotten." Alsanawi said he often receives customers who want him to recreate certain looks they saw on Instagram or during a match. Alsanawi's A Star Coffee and A Star Tattoos have also caffeinated and inked some of the biggest stars in and around London.
Another South London barbershop, Jamaican immigrant Sheldon Edwards' HD Cutz, has attracted several star athletes such as Callum Hudson Odoi, Moussa Dembele, Thierry Henry, and Usain Bolt (whose own soccer career almost worked out). Recently, Edwards was flown out to Dortmund, Germany, to cut the hair of  eight of Borussia Dortmund's young players. Over the summer, Edwards flew to Russia to cut the hair of the Belgian National Team.
"Oh yeah, it was a look for sure mate," Edwards said over the phone. It was close to midnight in London, but Edwards had only just gotten back from a house call for Olivier Giroud, the World Cup winning French striker who currently plays for Chelsea FC. "I mean it was a look- fresh new kits, fresh new haircuts, it was really special. And they went on to win third place! Looking at the team picture after they won and being able to point out all the cuts I had done, it was something else."
"My whole line of work is creating looks, creating statements," Edwards said. "I don't want to just give you a haircut mate, anyone can give you a haircut," he says as he sips his water thoughtfully. "I want to give you the HD Cutz experience. I want your hair to match your shoes and your tie and your watch and your belt."
The importance of the look, Edwards says, is how soccer and fashion are joining forces.
****
"They're superstars," said Luis dos Santos, a fashion and design journalist from Portugal, who has extensively covered the releases of Cristiano Ronaldo's clothing lines for Spanish news outlet El Pais and his personal blog. "People want to play like them, dress like them, live like them… a famous player can start a trend from anything."
Cristiano Ronaldo has his own line of hotels, shoes, fragrances, apparel, and denim; not to mention a lifetime athletic contract with Nike, worth an estimated $1 billion.
The only other person with a lifetime contract with Nike? LeBron James.
"He is one of the most influential people in the world, no doubt," dos Santos said. "When he does something- wears a new suit, changes his hairstyle, anything- the world not only notices, but responds." dos Santos calls it "fascinating."
Cristiano Ronaldo has 166 million followers on Instagram, making him the most followed individual on the platform and the second most followed account, after Instagram themselves. In 2018, the US population was just over 327 million people.
"Truly fascinating."
With an online presence that reaches so many people, he is in many ways an asset to Nike. Over a 13 year partnership, Ronaldo has worn 60 different Nike cleats, including several signature collections. According to Hookit,  an organization that measures the social and digital  values of brands, Ronaldo's  social media presence generated "$474 million in value for Nike this year via 329 posts" on platforms such as Facebook, Instagram and Twitter. Ronaldo has been the jewel in Nike's soccer crown since he signed with them- however, another Portuguese speaker helped pave the way for a collaboration hypebeasts and soccer fans have been longing for.
Neymar Jr., one of Brazil's most iconic players, lives for the look. Like his play style, his fashion is delicate but sleek. Flashy, but not reckless. Timeless, but modern. In 2016, Nike released the Neymar x Jordan Hypervenom- inspired by the Jordan V's, and Neymar's personal love for the kicks.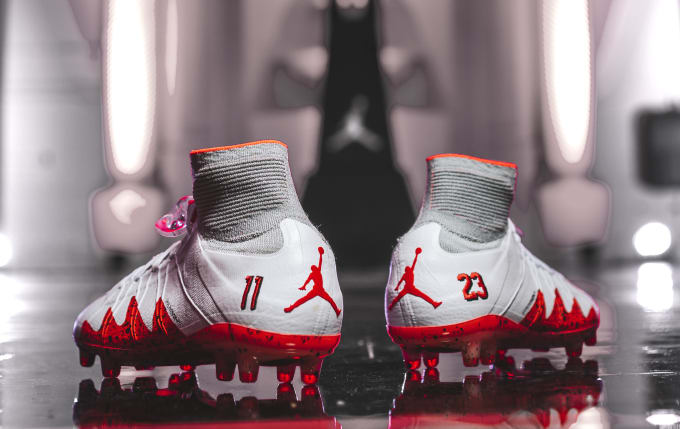 At the time of the release, Neymar was playing for FC Barcelona, but in 2017 he transferred to Paris Saint Germain for a World Record $262 million. Neymar's move to Paris opened the doors even further for the Jumpman brand, who created two special jerseys for PSG that featured the Jordan logo instead of the Nike Swoosh. In addition, there were sweaters, beanies, shirts, and limited edition Air Force 1s, all decked out in the PSG colors. The Hypervenoms were Jordan's first take on soccer, but their collection is a symbol of intent for the future.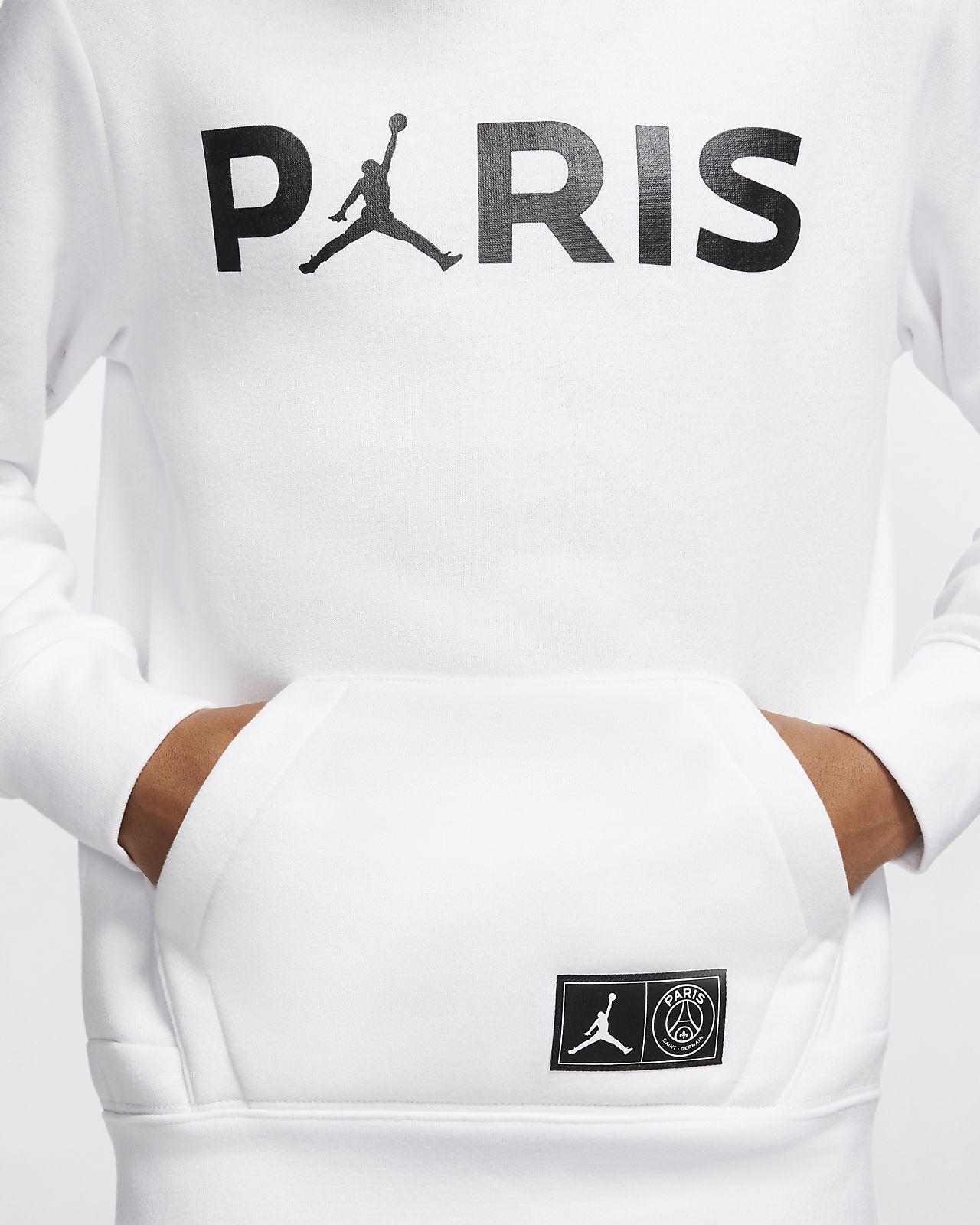 Nike has also collaborated with "Off_White"- A streetwear company headed by the iconic Virgil Abloh- to produce soccer jerseys inspired by the old school kits with collars and sewn on details. Nike has also promoted local soccer projects, such as Harlem FC, in an effort to rebrand their soccer apparel and cater to the trends and changes in the sport.
Other sportswear brands, such as Adidas, have enlisted the help of superstars Lionel Messi, Paulo Dybala, and Paul Pogba to boost their brand. Adidas remains the most popular soccer brand (and is the official kit sponsor  and ball-provider for FIFA and its referees) however Nike's recent dominance in the fashion area of the sport has put pressure on the Three Stripes. For the 2018 FIFA World Cup in Russia, Adidas crafted throwback jerseys for its teams, as well as launched a collaboration with Russian designer Gosha Rubchinskiy. Recent Adidas collaborators in the soccer realm include Kith, Parley, BAPE, Daniel Arsham, and more.
Puma, Germany's second largest apparel company after Adidas, have also thrown their hat into the mix with recent collaborations with En Noir, Rob Garcia's Miami based fashion house. The two released an all black, retro inspired soccer jersey along with a limited edition shoe in their own attempt to re-brand their soccer department into a trendy and fashionable experience.
Outside of the juggernauts of sports apparel, there are some independent designers who have been making waves in the soccer department. One of them is Brooklyn based Colm Dillane, a lifelong soccer fan who captains, coaches, and designs the kits for his own rec team. His brand, KidSuper, and his team, KidSuper FC, are known for their eclectic style, colorful flair, and devilishly good style. He has featured legendary soccer players on his merchandise before, with pants and bags covered in sketches of stars like Johan Cruyff, Ronaldinho, Franz Beckenbauer, and many more.
"I don't know, Ronaldinho maybe. His tricks are just so entertaining," Dillane says while sitting on a box of shirts in his store.
"Or Cruyff. Cruyff changed the game."
Changing the game, Dillane says, is what he strives to do. As a fan growing up, Dillane says he loved the way the shorts were short and the shirts were baggy, a look he tries to emulate in his own collection. He wants to bring the same look back into fashion.
"These players were onto something. Wild hair, short shorts, porno staches, crazy patterns on their kits, that was fashion. We need more of that," Dillane says as he hops off the box. He walks over to another box, opens it up, and pulls out a pack of KidSuper FC socks.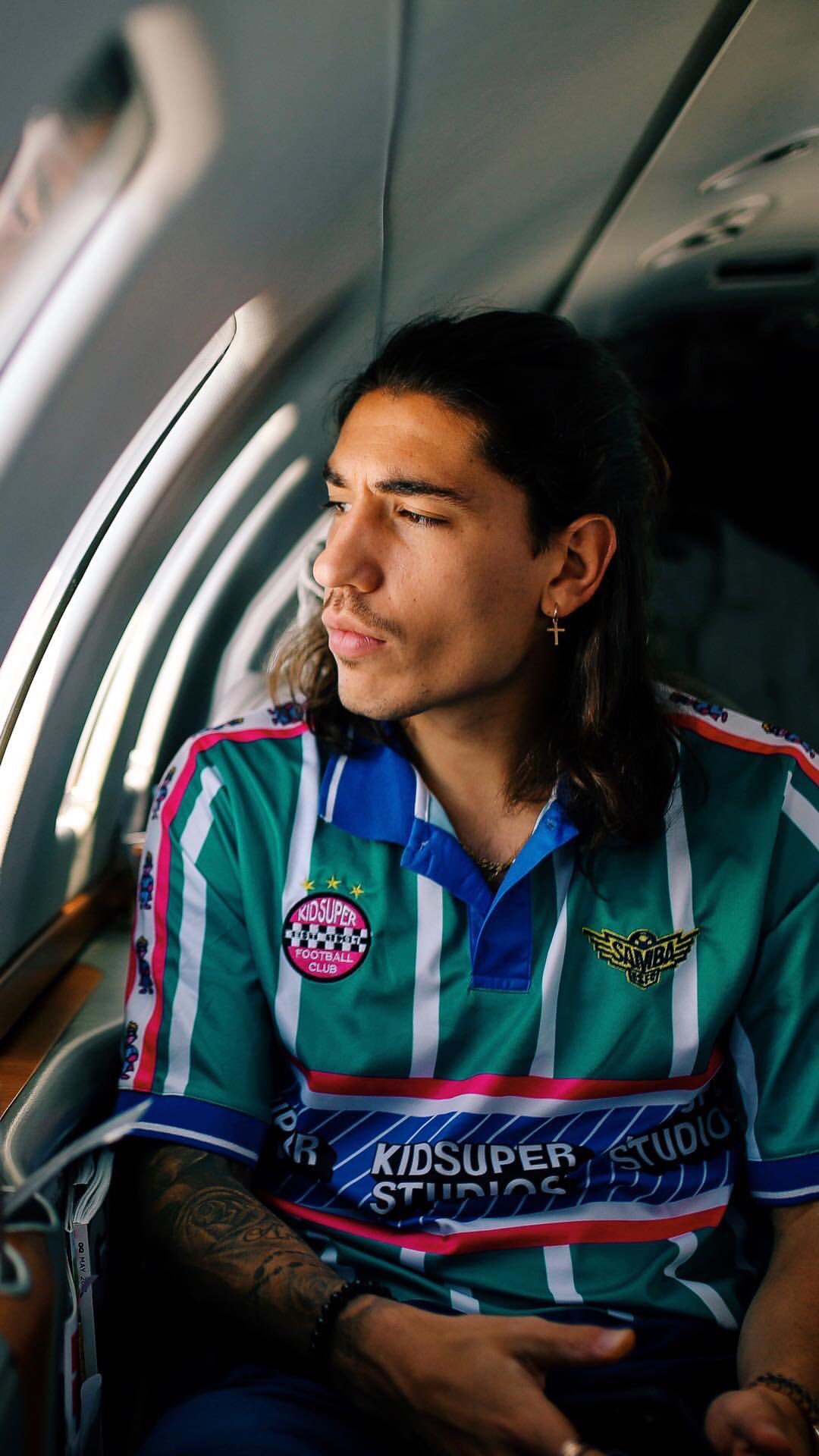 "Soon, everything from the heyday of soccer will come back. Even soccer socks. But scarves, that will be the best day for fashion."
While Givenchy has released its own soccer inspired scarves, Dillane argues that it simply isn't the same.
"A big house can do something like that, I guess, but it's really up to us little guys," Dillane said. "A soccer scarf is worn to represent a team, a city, an ideology. You can wear it anytime, anywhere. It's not supposed to be 'designer,' with expensive fabrics. You're supposed to live in them, drink in them, eat in them, cry into them…" he trails off, as he considers making his own scarves.
"Local businesses and teams are analogous. We both represent and love a city, we draw inspiration from that city," Dillane said. "That's why big brands haven't caught on to the soccer trend. Once they reconnect with their roots, especially the European brands, they'll see."
"A city is only as iconic as its soccer teams."