On April 2, 2019 Seton Hall University will be holding a symposium in Bethany Hall. There will be multiple important figures in the sports business industry to discuss various topics. The event will be running from noon until 5 p.m. The symposium is sponsored by Seton Hall's very own Stillman School of Business as well as the College of Communication and the Arts.
Special Guests Include:
Adam Silver, the Commissioner of the National Basketball Association. He has recieved many awards throughout his career for being so amazing at his job. These awards include being ranked twice as number one on Sports Business Journal's annual list of the 50 Most Influential People in Sports Business, as well as making Bloomberg Businessweek's list of 50 people who defined global business.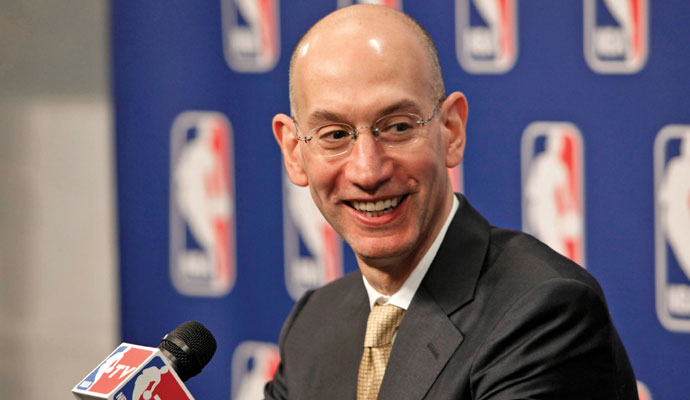 Bob Ley, ESPN's longest serving commentator as well as the primary host on the program "Outside the Lines" which focuses on athletes' issues outside of the playing field. He was recently inducted into the National Sports Media Association Hall of Fame.
Stephen A. Smith, a featured commentator on ESPN's "First Take" which is a podcast discussing the sport debates of the day. He has also hosted a morning show on Fox Sports Radio, and worked as a sports columnist for the Philadelphia Inquirer.
Russel Okung, Super Bowl champion left tackle for the Los Angeles Chargers. He was elected by peers to the National Football League Players Association executive committee due to his passion for the business of sports and his interest in the best for for professional athletes.
Other guests include B.J. Schecter, Charles Grantham, Jeffrey Mishkin, Ken Belson, Armen Keteyian, Terri Carmichael Jackson, W. Charles Bennett, Bob Boland, Len DeLuca, and Daniel Wallach.
Topics Thats Will Be Discussed
Gambling
Amateurism
Sports Business
Media Ethics
Schedule:
12:00 p.m. – Welcome Lunch and Opening Remarks, presented by B.J. Schecter
12:15-1:15 p.m. – One-on-One Interview
Keynote Speaker: Adam Silver
Interviewer: Professor Charles Grantham
1:20 p.m.-2:15 p.m. – Gambling Topic
Panel: Charles Bennett, Bob Boland, Armen Keteyian, Jeffrey Mishkin, Russell Okung, and Daniel Wallach
2:20 p.m.-3:20 p.m.- Amateurism topic
Panel: Ken Belson, Len DeLuca, Terri Jackson, Jeffrey Mishkin, Russell Okung
3:25 p.m.-4:30 p.m.- Conversation between Bob Ley and Stephen A. Smith
4:40 p.m.- Closing Remarks 
B.J. Schecter and Charles Grantham