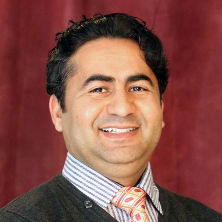 Dr. Youssef Yacoubi, Ph.D.
Assistant Professor & Director, Arabic Studies Program
Qur'an Digital Humanities Crowdsourcing Project
Qur'an Digital Humanities Crowdsourcing Project
2017 Seed Grant
This project will bring to light some of the textual and calligraphic aspects of a 1698 manuscript of the Qur'an owned by Seton Hall University. The main objective of the project is to decipher the Arabic marginalia through crowdsourcing, to compose a narrative of the journey that this Qur'an made from its initial ownership by a student at Princeton University in 1893, to its arrival at Seton Hall University, and ultimately, through this project, to make the manuscript available to our students and scholars worldwide.
Yacoubi, Youssef, "Qur'an Digital Humanities Crowdsourcing Project" (2017). Digital Humanities. 25.
http://scholarship.shu.edu/dh/25
Digitization of the Seton Hall Qur'an Manuscript
2018 Faculty Fellows
Prof. Yacoubi will use this fellowship to continue the current Seed Grant Project on the Digitization of the Seton Hall Qur'an manuscript. The focus will be to be able to share the outcome of the ongoing process of digitization and crowdsourcing with my upper-level Arabic: Fourth Year Arabic II students.
The course project focus will be to study closely the calligraphic, artistic and linguistic aspects/ merits of the Qur'an manuscript, which is now fully digitized. Using the Qur'an project as the main material for study will train students to do at least two things: 1. to understand the process by which the manuscript has been digitized and then crowdsourced for analysis and interpretation and 2. to actually allow them to digitally read through the manuscript to study and understand its marginalia, artistic, linguistic and calligraphic aspects within the context of digital humanities.
Students of the Arabic language at this most advanced level will have a chance to deepen their appreciation of Islamic textual cultures but be able to do so by developing a practical understanding of digital humanities and the interplay between literature/ text and technology.