Pharrell Williams Appointed Louis Vuitton's Next Creative Director
Miabella Espaillat
Fashion Editor
At 49 years old, Pharrell Williams is a rapper, performer, songwriter, and record producer from the United States. He contributed to several pop singles as a songwriter, a solo artist, and a member of the Neptunes production team. With such success, his new step towards being a designer is no surprise to his multi-talented abilities. Virgil Abloh will be replaced as the men's creative director of Louis Vuitton by Pharrell Williams, the French luxury fashion business announced on Tuesday. His first collection will make its debut in June in Paris at Men's Fashion Week, and the appointment is effective right away.
The announcement follows Abloh's passing in November 2021 at the age of 41 after a personal fight with cancer. The unexpected death of the creative innovator shocked everyone in the profession and beyond. Abloh made history when he was named the first Black artistic director of Louis Vuitton in 2018. He is recognized with bringing a younger clientele to the storied fashion brand with designs that introduced a streetwear style to the luxury market. Many people may be surprised with Williams taste and knowledge in fashion. Williams, a known 13-time Grammy winner, is more famous for his music career. However, the 49-year-old also has a strong background in fashion. In 2003, he and fashion designer Nigo co-founded the streetwear label Billionaire Boys Club. He has also worked with other premium companies, such as Tiffany & Co., Moncler, and Adidas.
Williams's audacious personal style frequently makes headlines, and he is no stranger to the front row of fashion. Williams's bold choices have included a large brown topper hat he wore to the 2014 Grammy Awards and his now-signature bejeweled Tiffany sunglasses.
Similar to Abloh, Williams' creativity crosses disciplinary boundaries. At the start of 2022, he revealed he was working on a large-scale hotel project that would debut in the Bahamas the following year. During the pandemic, he also unveiled a portable cutlery set to reduce the use of single-use plastics when dining outside.
At the Grammy Awards included, Pharrell Williams made a statement on the red carpet by donning a quilted red leather tracksuit by Ernest W. Baker underneath a fake fur jacket, pointed black boots, and Tiffany diamond-rimmed teardrop-shaped glasses.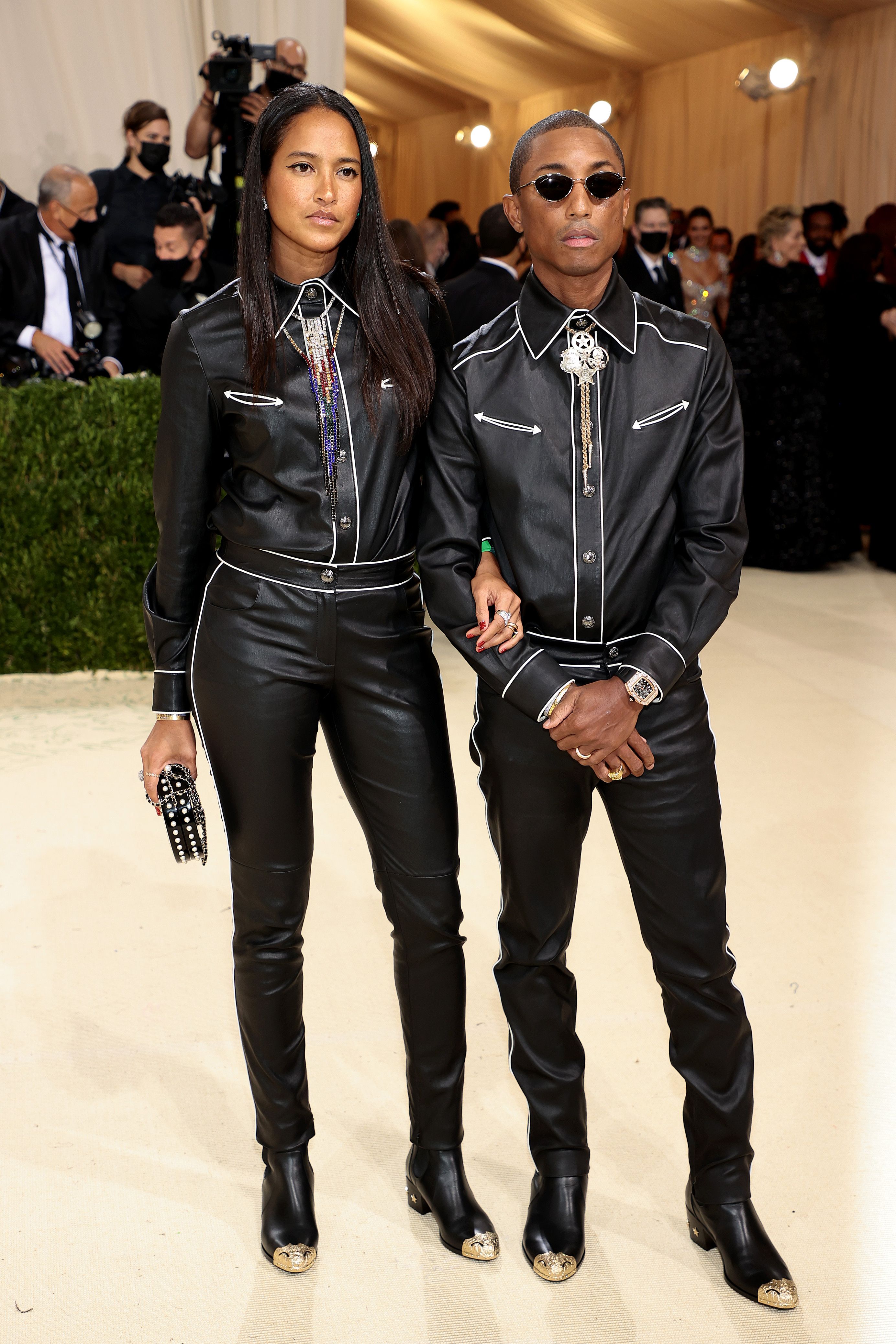 Mr. Williams has been a significant figure in hip-hop whose fashion experiments, particularly in more recent years, deviate greatly from traditional silhouettes. On the red carpet, he frequently dons a slim suit with shorts that terminate just above the knee. This look can be worn successfully, as in his 2014 Oscars black tie ensemble, or clumsily, as in his 2019 Oscars camouflage ensemble. He donned an outfit that inspired 1,000 memes at the 2014 Grammy Awards, a red leather track jacket paired with an oversized brown Vivienne Westwood derby. It served as both a pop culture Rorschach test for tolerance of male eccentricity and a visual distortion from someone who typically presents as well controlled.
More than any other hip-hop celebrity save Ye (formerly Kanye West), Mr. Williams has made establishing a reputation for daring dress a core competency. He has experimented with his own canvas for more than 20 years, going from art-skate brat to cartoon-bling hyperrealist to funhouse-mirror schoolboy to opulent hippie. He has also worked with Chanel, Moncler, Tiffany, and Louis Vuitton among other high-end brands for almost as long.
For the hip hop legend Williams is, it's unclear how Williams will leverage his experience in his new position at Louis Vuitton, a flurry of industry responses to the news on social media suggests he'll have a sold-out audience during his first performance this summer.
Contact Miabella at espailmi@shu.edu