News
Pirate's Pitch 2020
Five teams of Seton Hall University student entrepreneurs pitched their business ideas for more than $25,000 in venture capital seed funding at the 10th annual Pirates Pitch Startup Contest sponsored by the Stillman School of Business' Center for Entrepreneurial Studies. The April 1 event, originally slated to be held before a live audience of several hundred students and faculty in Jubilee Hall, instead assumed a virtual format because of social distancing restrictions caused by the coronavirus (COVID-19) outbreak in the United States.
How did the virtual contest go?
Tremendously well, according to Joyce Strawser, dean of the Stillman School of Business. "These young entrepreneurs are an inspiration! Although they are at very different stages of concept development, each team has an intriguing business idea," Strawser said. "I am especially impressed by the students' ability to adapt so successfully to a virtual pitch presentation. Our judges provided some terrific advice, which I know students will find invaluable as they continue pursuing entrepreneurial ventures. In all, I am incredibly proud of our entrepreneurship community!"
All five teams received seed funding for their projects, with Stillman senior Noah Thompson taking home the largest amount at $6,500 for Agape, an athletic apparel ecommerce site that will allow shoppers to buy high quality merchandise at cost. Thompson, who also is a finance major and pitcher for the Seton Hall University baseball team, impressed the judges with his innovative retail model and his extensive research, including visiting factories in China last summer. He shared that Agape already sells customized leggings to sororities nationwide as a first step in building the business. His ultimate goal, he added, is to enable overseas factories to earn a fair profit while letting shoppers buy high-quality merchandise at cost. Agape will profit by charging shoppers a membership fee for access to bargain prices.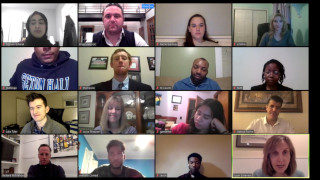 Seton Hall student entrepreneurs compete in 10th annual Pirates Pitch Startup Contest
Buccino Leadership Institute sophomores Rachel Badway, a finance major, and Robin Schilke, an art and design major, pitched LeadAhead and received $4,500.
"In our tech focused world, we often forget to develop the leadership skills that help set professionals apart in the workplace," Badway said. LeadAhead plans to teach key leadership skills through a series of fun and engaging activities that students can complete on their cell phones. The startup idea grew out of a leadership class project, with Badway and Schilke already employing skills and concepts they are learning in the leadership program.
The student team of sophomore Luke Tyler and junior Marian Bsharat, co-founders of Edith, were awarded $3,000 for their proposed digital workforce management software. The goal is to enable companies to boost productivity and employee retention rates by tracking early signs of worker burnout. Edith will then suggest work-flow changes to help each employee improve their job experience. Tyler is majoring in finance and minoring in computer science, and Bsharat is majoring in finance, entrepreneurship and marketing.
Faith Akinlade and Belen Gamarra were awarded $1,250 for their business idea KINetics, an app that would help members of health and fitness clubs with similar interests to meet each other to work out together. The app also encourages users to get together socially to improve their physical, mental and social health. Akinlade and Gamarra are both sophomores in the Buccino Leadership Institute, and Akinlade is a civil engineering and physics major, while Belen is majoring in psychology with a business minor. In November, the team won first place for their startup idea in the Health Care Transformation Challenge sponsored by Horizon Blue Cross Blue Shield of New Jersey.
Seniors Anthony Conrad, Jevon Mitchell and Marcellus Counts, and junior Quintar Mathis were awarded $750 for Don'tStop.Skate, a mobile skate repair shop that would be similar to a food truck. They plan to create skate repair trucks that will frequent popular skate parks to provide instant repairs of wheels and boards so that the skating experience won't be cut short. Otherwise, skaters can be out of commission for days while they find a repair shop and wait for repairs to be made. Conrad is majoring in management, Mitchell in finance, Counts in social and behavioral sciences, and Mathis in liberal studies with a communications minor.
As part of their awards, the student teams will receive pro bono legal services from attorneys Christopher Santomassimo and Anthony Davis and their staff at Santomassimo Davis LLC, a law firm with offices in Parsippany, and a sponsor of the Pirates Pitch startup contest.
To also encourage the student teams to continue to develop their startup business models, the judges told them each team can earn as much as $1,500 in additional venture seed money capital if the team successfully completes a new eight week virtual summer accelerator program being launched in May by the Center for Entrepreneurial Studies.
Susan Scherreik, founding director of the Center for Entrepreneurial Studies, expressed her pride in the student teams. "These young entrepreneurs demonstrated passion and drive as they overcame many obstacle to compete in Pirates Pitch this year," she said. The Finalist Teams, she noted, worked remotely to write their required business plans, create five-minute videos that they submitted to the judges to substitute for live pitches, and then held question and answer sessions with the judges in video-conference sessions. "Pirates Pitch continues to grow and develop as a competition," Scherreik added. "That growth is a reflection of both the limitless creativity and ingenuity of Seton Hall students and the planning and support of all of those involved."
The alumni investor judges were:
Bryan Jakovcic '09, President and Owner, Fusion Health
Rich McMahon '87, CEO, cda Ventures and former CEO and President of Bed, Bath & Beyond, and Seton Hall University Regent
Pravina Raghavan '01, Executive Vice President, Division of Small Business and Community Economic Development at Empire State Development
Gabino Roche Jr. '98, CEO and Founder, Saphyre
During the competition, the judges shared how impressed they were with the caliber of the students' ideas, the effort they put into their business plans and video presentations, and their poise during the question and answer sessions.
You all have done a great job and you all have what it takes to be very successful in life," judge Bryan Jakovcic told the students during the contest video meeting.
"Pirates Pitch is a phenomenal way of encouraging the entrepreneurial spirit of students at Seton Hall University," noted judge Pravina Raghavan. "It introduces young entrepreneurs to a network of experienced individuals who can provide valuable feedback that can take the ideas to the next level."
Added judge Rich McMahon: "Entrepreneurs live and breathe their businesses, and I look forward to seeing you continuing to develop your startups in the summer accelerator program."
To learn more about the student teams and their startup ideas, visit the Center for Entrepreneurial Studies Pirates Pitch webpage.
For more information about the new summer accelerator program, contact Director Susan Scherreik at Susan.Scherreik-Hynes@shu.edu.
Pirate's Pitch 2019
Student Entrepreneurs Receive $16,000 from Investor Judges
By Juliana Arrabito and Joseph Murante, 
Hundreds of students, faculty and friends cheered on four student teams who pitched their business ideas for $16,000 in venture capital seed funding at the ninth annual Pirates Pitch Startup Contest sponsored by the Stillman School of Business' Center for Entrepreneurial Studies. Urged on by John Fanta '17 from Fox Sports Network and Big East Digital Network, who served as Master of Ceremonies for the April 3 event, the audience and investor-judges drilled down on what would make each potential business a success.
All teams received seed funding for their projects, with M.B.A. student Alissa Lopez, taking home the largest amount at $9,000 for Sincere Sitter, a website and app connecting caregivers and parents. With more than seven years experience as a babysitter, Lopez wowed the judges with her idea and business plan. Just last month Lopez's idea led to her being selected as one of the final eight teams to pitch at the Student Startup Madness Entrepreneurial Competition at the South by SouthWest festival in Austin, Texas.
College of Nursing freshmen Allison Lamoureux, Katie Mazzarelli and Annemarie Ryan pitched Care Call and received $3,500. They worked closely on the project with a support team comprised of of Patricia Esposito, Isabel Finan, Gary Kraft, Julia Skerratt and Isabella Valentino.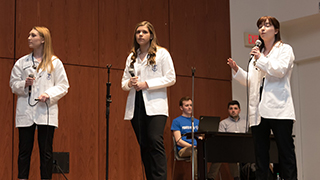 "Easy, efficient, effective," Care Call would allow patients to communicate their exact needs to nurses through tablets and software, alerting the nurses to the specific nature of the concern. The goal is to reduce wait times, improve nursing procedures and increase patient satisfaction. The Care Call team, all members of the Nursing Cohort in the new Buccino Leadership Institute, also received the Audience Choice Award, earning an additional $500.
The student team of Peyton Elder and Olivia Finan from Flock were awarded $2,000 for their multiplatform application that would allow consumers to easily compare the food prices and wait times for popular food delivery services such as Uber Eats and GrubHub.
Steven Catudal, Elizabeth Win and Nathanael Boatswain were awarded $1,500 for their business idea Sprouts Analytics, which aspires to be the Bloomberg Data Service for cryptocurrencies, providing real-time data, news feeds and user forums.
Susan Scherreik, founding director of the Center for Entrepreneurial Studies, expressed her excitement about the event and the fearless nature and creativity of this group of student entrepreneurs.
"The goal of Pirates Pitch is to cultivate the ambitious drive of student entrepreneurs and assist those young professionals in making their ideas a reality," said Scherreik. "Each year, Pirates Pitch continues to grow and develop as a competition. That growth is a reflection of both the limitless creativity and ingenuity of Seton Hall students and the planning and support of all those involved."
The alumni investor judges were:
John Auriemma '81, founder and CEO of American Wear
Michael Lucciola '83/ M.B.A. '86, CEO of Firefly Group
Taseen Peterson '14, Founder of Gamefuly
Pravina Raghavan '01, Executive Vice President at Empire State Development
During the competition, the judges shared how impressed they were by the caliber of the students' ideas, the effort put into the business plans and the polished presentations.
"Pirates Pitch is a phenomenal way of encouraging the entrepreneurial spirit of students at Seton Hall," said Raghavan. "It introduces the young entrepreneurs to a network of experienced individuals who can provide valuable feedback that can take the ideas to the next level."
"This competition gives students the opportunity to formulate a business idea and have that idea manifest into a start-up," said Auriemma. "The lessons that these teams learn from this experience will grant them a competitive advantage in their industries for years to come."
Alumnus and former Pirates Pitch winner Christian Zeron '16 advised the competitors and aspiring entrepreneurs on the importance of understanding the "why" in business. He shared that finding purpose in one's work gives direction goes on to influence actions and choices for the business. Zeron's vintage watch business, Theo and Harris, cracked $2 million in sales last year.
Pirate's Pitch 2017
Students Awarded $10,000 in Prizes at Pirate's Pitch
By Matthew Radman,
International Business Assistant Editor
On Friday April 7, five finalist teams gathered on stage in the Jubilee Hall auditorium to compete in the seventh annual Pirate's Pitch competition. Seton Hall has hosted this competition since 2010 to provide its student entrepreneurs an opportunity to show-off their business ideas and for a chance to win a portion of $10,000 in capital to go towards making their dreams a reality.
Pirate's Pitch has earned a reputation since its inception for being the initial driver behind the success of many of the companies presented. For many students, Pirate's Pitch is the first time their business is examined publicly. However, after all of the hard work and nerves of getting up on stage, all participants walk away feeling enriched with what they learned along the way.
Before the teams presented, the crowd welcomed back Shaaliayah Lyons, one of the winners from last year's Pirate's Pitch. Last year, she presented her pitch on her idea for Together We Conquer Life Skills Basketball Camp, which aims to inspire young athletes in all aspects of their lives. Since Pirate's Pitch, Lyons has partnered with local teams to do workshops and officially initiated her non-profit starting with a 1 week summer camp. Lyons mentioned that one of the important lessons that she learned from Pirate's Pitch and from the judges was to take baby steps and not do too much at once.
The judges listened to this year's five pitches before commending their merits, giving feedback, and providing mentoring to the students. The panel of judges included: partner at One-to-One Corporate Finance Patrick Cozza, founding and managing partner at Adison Partners Jim DiPietropolo, host of CEO Radio WCBS 880 AM Ray Hoffman, partner at Connell Foley Angela Iuso, staff accountant at MIU & Co. Erin Miu, and founder and CEO of Wolfe Roofing and Sheet Metal Gary Wolfe.
The event began with Sports Armor Innovations LLC, a sports equipment company that aims to make putting on protective gear easier. "Where safety meets efficiency" is founders' Kyle Hilliard (Physics), and William Sayegh (Biology) tagline for the company.
Their flagship product is the Orion B1, a single piece body armor suit which is, for now, designed specifically for hockey. Hilliard is himself a hockey player and knows the market very well. The next company presented was Rephone, a cell phone repair company founded by Anthony Laverde (Marketing) that works directly with independent shops to provide a cheaper and faster solution as opposed to shipping phones out to China. Laverde aims to gain market share by providing a win-win-win situation with customers, shops, and himself. The company is already functioning and profitable, Laverde even plans to expand his visibility at the Consumer Electronics Show (CES) this January in Las Vegas. Laverde donates 10% of revenues to the Nellie Mae Education Foundation which aims to transform public education to teach the necessary skillset for the technology era.
The third company to present was CampusGo, founded by Ian Campbell (Mathematical Finance) and Thomas J. (TJ) Merighi (Management). The company is a bike rental service specifically aimed at college campuses.  It provides students with alternative transportation to get around campus and it also may help alleviate parking congestion.
The company is targeting campuses with 15,000 plus students and is currently in talks with the large campuses in the south to get the company jump started. The company also plans to make use of smart locks that can be accessed by an app in lieu of a usual bike docking station which makes for an easier docking situation for students. The fourth pitch was for BUBLS LLC founded by Anthony Woodard, a company hoping to capitalize on the fast growing trend of bubble teas. Woodard's product is unique in that it is pre-packaged and is able to be sold in stores as opposed to having to go to a bubble tea specialty shop. The fifth and final business presented was Divvi, a group messaging app founded by David Webster (Marketing). Webster aims to provide a service that targets productivity from a messaging app. The app has a shared calendar and many organizational features allowing groups or teams to get work done efficiently. The judges were moved by the incredible potential for Divvi, allowing the app to take first place and earn $6,000. Anthony Laverde and his company RePhone took second place and $3,500. Ian Campbell and TJ Merighi and their company CampusGo impressed the audience and took home the Audience Choice Award and $500. The judges stated that it was a difficult choice as every year, the students and companies presented get more and more impressive. For the seventh year straight, the Stillman School of Business put together an event that was as challenging as it was fun and enriching to presenters and judges. While not every company can be a winner at Pirate's Pitch, all of the teams valued the experience and gained invaluable mentorship from judges throughout the experience.
As Pirate's Pitch 2017 comes to a close, the real work began for the entrepreneurs. The students gained insights into how to take their innovative ideas to the next level and reach their full potential.
Theo & Harris Wins Pirate's Pitch 2016
On Friday, April 8 at 1p.m. in the Jubilee Hall auditorium, five student teams competed at the annual Pirate's Pitch Venture Fund competition. Pirate's Pitch is an annual competition similar to the popular television show, Shark Tank, held at Seton Hall University.Students generate a business idea and present it to a panel of judges. Since Stillman launched the business model competition in 2010, Pirate's Pitch has become a catalyst for many of our most outstanding students to launch their own businesses. These students have also gone on to win other college-sponsored business model competitions both regionally and nationally.The panel of judges consisted of prestigious entrepreneurs. They were: Sunny Bathla, Ray Hoffman, Rich McMahon, Shannon Morris, Kimberly Weisul, and Taseen Peterson.
Sunny Bathla is the founder of OSB Consulting and Vice President of Virtusa. Ray Hoffman is a host and producer of CEO Radio on WCBS Radio 880 AM. Rich McMahon is the founder of CDA Ventures and former chairman/vice-chairman of Bed Bath and Beyond. He is also a Seton Hall University Regent. Shannon Morris is the President of Sigma Group. Kimberly Weisul is an editor-at-large of Inc. magazine. Lastly, Taseen Peterson is founder of Notefuly, and a past Pirate's Pitch winner.The judges evaluated the students' presentations based on their perceived ability to execute the idea and turn it into a feasible and profitable business. The student teams competed for a grand prize of $6,000 in prize money.The event began with Advise Me College Consulting, a business that provides low-cost college consulting services to domestic and international high school students seeking to attend universities within the United States. The founder is Dominique Fortes, a junior majoring in Accounting with a minor in Asian studies.Next in line was SeekVehic (pronounced "Seek-Veek"), a mobile application that would make the process of obtaining a ride from Uber or another taxi service more efficient. The student team consisted of Karan Patel and Justin Hernandez, two seniors from Union High School. Also on the team was freshman Austin Lopes, a member of the Gerald P. Buccino '63 Center for Leadership Development.Hernandez spoke about his experience in starting up a new business saying, "If you have an idea, it is all about execution, and that is not just about our company, but for all companies in general."
The third presentation was done by Shaaliyah Lyons, a junior majoring in Sports management with a minor in African Studies and a certificate in Entrepreneurial Studies.
Her business, "Together We Conquer Life Skills Basketball Camp INC (TWC)" is a total basketball skills camp committed to inspiring young athletes to strive for excellence in all aspects of their lives. The camp emphasizes complete player development and as a result, the student-athlete not only completes high school, but also gets admitted into college with or without an athletic scholarship and succeeds while in and after college.
The fourth business idea was "HorsesDr.com", a business created by Selene Presseller, a senior studying Marketing and Information Technology Management. Her business is a website and application designed to help horse owners make an early diagnosis of illnesses and help them to locate reputable veterinarians. Presseller has been in the competition three times and attributes a lot of her success in the competition to the mentors provided by Professor Susan Scherreik.
The final presentation was done by Christian Zeron, a senior majoring in Catholic Studies. His business "Theo & Harris", which was launched a year ago and generated over $100,000 in sales in its first year of operation.
Winning the first place grand prize was Christian Zeron's company, Theo & Harris. He also won the audience award of $500.
When asked about his business Zeron said, "In a market that is so focused on revenue, I am laser focused on owning people's attention."
Claiming the second place $3,500 prize was Shaaliyah Lyons for her business, "Together We Conquer".
After being asked about what is next for her company, she stated, "I am going to look for grants in secure locations. Money provides something tangible for me to get started with getting a website domain and other startup expenses. Now it is about getting [the business] running."
Professor Susan Scherreik, Director of the Center for Entrepreneurial Studies, reflected on the event stating, "All of our finalists did an amazing job and all of them deserved to win. Our judges really had a tough time."
She added, "Every year the students just get better and better."
The event turned out to be a challenging and rewarding experience for all of the students who participated.
It provided the teams with the opportunity to execute their pitches in front of an audience and accomplished entrepreneurs.
Now, the Stillman community must wait and see how their businesses prosper in the future.
FRESHMAN STILLMAN STUDENT, SKOLNICK, TAKES FIRST AT ANNUAL 2015 PIRATE'S PITCH COMPETITION
By Susan Scherreik,
Director of the Center for Entrepreneurial Studies  
In Seton Hall University's own version of "Shark Tank," three student teams won $10,000 in prizes and business services at Pirates Pitch 2015, the fifth annual Seton Hall University Venture Fund Competition.
At the contest, held on April 10 in Jubilee Hall Auditorium, five student teams pitched ideas either to start a business, or to expand an existing student-run venture.
Stillman Freshman Ryan Skolnick, a member of the Leadership Development Honors Program, won the $6,000 first place award for Aveho (pronounced A-Way-Ho) Learning, a business idea to create a video-game format to teach
Chinese and other foreign languages to elementary and high school students.
The three-member team of Stillman Junior Mike Gavela, Diplomacy School Junior Brian Wreckler and Arts & Sciences Sophomore Johnil Quezada, who majors in computer science, won the $3,500 second place award for Cthroo, a business idea to develop a discovery engine based on personal data collection.
Additionally, the $500 Audience Participation Award was snagged by the two member team of Stillman School Juniors Aziz Syed and Brent Ciccarino. Their business idea, Service Station, is for a mobile and website application to help consumers find reliable contractors for home remodeling projects and car repairs.
"Pirates Pitch is a wonderful way of showcasing entrepreneurship and innovation," said Pravina Raghavan, a Senior Advisor in the U.S. Department of Commerce and one of the contest's judges. "It allows students to get their ideas launched in the real world while benefiting from the intense mentorship and support from Seton Hall."
The other judges were Sunny Bathla, Vice-President, Virtusa, & Founder, OSB Consulting, Patrick Cozza, a retired group CEO at HSBC, Ray Hoffman, Producer and Host, CEO Radio on WCBS News Radio 880 and CBS Radio Network, Michael Lucciola, CEO of the Firefly Group and a Seton Hall University Regent, and Kim Wales, Founder, Wales Capital and an expert in crowd funding.
The judges evaluated the student ideas for business ventures based on several criteria, including originality, viability and growth potential.
Joyce Strawser, the Dean of the Stillman School of Business, said, "I am very impressed by the creatively and range of the ideas that were pitched this year.  It is clear that the teams put a great deal of thought and research into their plans, and the quality of the actual pitch presentations was top-notch."
She added, "I could not be more proud of our participants and the wonderful way they represent Entrepreneurship at SHU."
"Every year, Pirates Pitch just keeps getting better and better," remarked Susan Scherreik, Founding Director of the Center for Entrepreneurial Studies, which sponsors the event.
She praised all five Finalist teams for their outstanding "pitches" made to the judges and an audience comprised of more than 100 students, faculty members, family members and friends.
"The judges really had a tough time selecting the winners," she said. "Any one of our Finalist teams could have won the event."
First place winner Ryan Skolnick reflected on the competition, "I am very excited that my business pitch was well received by the judges. The entire competition was a great experience. It provided me with an opportunity to work with mentors and refine my business idea."
When looking towards the future, Skolnick added, "The next step will be to launch my startup and the prize money and business services I will receive as part of the award will help me to do that."
Ideas of past winners included a solar-powered mobile phone charger specifically designed for use in developing countries, an online music data search engine, and a web-based business that seeks to make public relations and social media services more accessible to small businesses.
Based on this year's roster of intuitive business ideas, the competition congratulates all participants, and looks forward to seeing a new set of creative ideas that would be pitched during next year's Pirate's Pitch competition.